Policing
Police can play a vital role in defending some of our most fundamental human rights. They support our ability to live free from violence, crime and fear, and help create an environment within which other rights and freedoms can be enjoyed.
The effective protection of human rights rests with Police Scotland and a number of public bodies with responsibility for policing in Scotland. The State has an overarching obligation to respect, protect, and fulfil everyone's human rights.
Human Rights Based Policing
Human Rights Based Policing (HRBP) is an approach to policing that defines the relationship between individuals and the police. It is the systematic embedding and implementation of human rights law and standards in police strategy, policy and practice. HRBP aims not only to empower people with rights, but to strengthen the capacities of those with duties to protect rights, including the police, to meet their human rights obligations.
Policing should embed human rights standards within five broad areas:
Policy and strategic decision making;
Operational planning and deployment;
Training and guidance;
Use and control; and
Investigation, monitoring and scrutiny.
Policing and New Technologies
The Commission is monitoring the use of new technologies within operational policing and has raised concerns about the potential human rights impacts of the use of these new technologies, particularly in relation to respect for privacy and family life, due process and the right to a fair trial and protection of democratic freedoms e.g. freedom of expression, peaceful assembly and association and freedom of thought, conscience and religion.
IAG on New Technologies
The Commission was previously a member of the Independent Advisory Group on Emerging Technologies in Policing, which was set up in 2020 to ensure emerging technologies used by Police Scotland are compatible with equality and human rights legislation and best practice.
The Commission has participated in two of the group's workstreams:
The Legal Framework and ethical standards workstream, was set up to look at existing legal frameworks, explore good practices and look at the role of ethics panels within Police Scotland
The Oversight, Scrutiny and Review Workstream, which was convened to identify and/ or document existing mechanisms and map any gaps in this area.
The group published a report and recommendations in February 2023.
Read:
Biometrics
The Commission has strongly supported the need for an independent Scottish Biometrics Commissioner to oversee the acquisition, retention, use and destruction of biometric data by Police Scotland.
In March 2021, we welcomed the passing of the Scottish Biometric Commissioner Act and we currently sit on the Biometric Commissioners Advisory Group.
Read our submissions:
Briefing for MSPs in advance of Stage 3 consideration of the Scottish Biometrics Bill (March 2020)
Cyber Kiosks
The Commission has expressed significant concerns about the human rights implications of police use of Digital Triage Devices, known as  'cyber kiosks'.
The Commission has called for clear rules and safeguards and a robust and independent oversight mechanism to be in place to regulate use of this technology.
SHRC was a member of Police Scotland's Digital Triage Device (cyber kiosk) Reference Group in 2018/19
Read:
Other issues
Police Use of Temporary Powers During Coronavirus
The Commission has been monitoring the impact of the coronavirus pandemic on a number of areas, including policing and justice and detention.
The Commission was a member of the Independent Advisory Group on Police Scotland's use of emergency powers, which was announced in April 2020 to review Police Scotland's use of new temporary powers to tackle the Coronavirus.
A list of all reports and public communications is available on the group's webpage.
The final report of the group is due to be published soon.
Read:
Freedom of Peaceful Assembly and Association
The right to freedom of assembly and association, which is protected by law in Scotland, guarantees that people can join with others to collectively express, promote, pursue and defend their interests.
There is a general requirement for the police to refrain from unjustified interference with this right, however, there may be situations where police are justified to do so. Any interference with these rights must comply with a number of conditions to be consistent with the European Convention on Human Rights. These conditions are:
the interference must be in accordance with the law;
it must be in pursuance of a legitimate aim; and
it must be necessary in a democratic society.
You can find out more about our work in this area on our webpage on Freedom of Peaceful Assembly 
Police Complaints
In 2012, the Police and Fire Reform (Scotland) Act provided for a new centralised approach to investigating police misconduct in Scotland and created an Independent Body responsible for reviewing how Police Scotland handles complaints about the police, The Policy Investigations and Review Commissioner (PIRC).
In November 2020, the first independent review of complaints handling and investigations since the creation of new policing structures was published. This was Chaired by Dame Elish Angiolini.
The Commission provided evidence to the Police and Fire Reform (Scotland) Bill and has also contributed to Angiolini's Independent Review.
In November, we welcomed the human rights emphasis placed in the final report.
The following recommendations were particularly welcomed:
The Police Scotland Code of Ethics, which sets out the standards expected of all of those who contribute to policing in Scotland and expressly references human rights, should be incorporated into law.
All deaths and serious injuries in police custody, deaths following police conduct and other serious criminal allegations against the police, should be reported to the independent Procurator Fiscal.
Meaningful victim involvement and constructive engagement with complainers must be supported. To facilitate this the report recommends access to free, non-means tested legal advice, assistance and representation for the immediate family of someone who died in custody, from the earliest point following the death and throughout any subsequent Fatal Accident Inquiry or Public Inquiry.
The independent Police Investigations and Review Commissioner ("PIRC") should be given greater powers to improve independence and public confidence.
Read:
Stop and Search
The Commission previously expressed concerns about the use of non-statutory stop and search practices by Police Scotland.
Help & Advice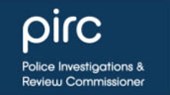 Considers and reviews the way police authorities, police forces and policing agencies handle complaints from the public.
Publications and Resources