Historical Child Abuse
Many people in Scotland are still suffering from the impact of abuse they suffered in the past. The Commission has been working since 2009 to promote effective access to justice and remedies for survivors of historical child abuse.
The Independent Scottish Child Abuse Inquiry was established in 2015, with public hearings starting in May 2017. You can keep up to date with recent news at the Scottish Child Abuse Inquiry's home page.
Human Rights Framework 
In 2010, the Commission published the Human Rights Framework for Justice and Remedies for Historic Child Abuse.  An easy read version is also available. Prof Alan Miller (Chair of the Commission 2009-15) has also given a talk about the accountability forum.
You can read the analysis of international human rights law relevant to historic child abuse in Word format, and read the research paper in PDF format.
Action Plan on Justice and Remedies 
An Action Plan on Justice and Remedies was published in 2014. This followed an "InterAction" process that brought together survivors of abuse, religious leaders and representatives from Scottish Government.
The Action Plan sets out two outcomes:
Acknowledgement of historic abuse of children in care and effective apologies are achieved.

Accountability of historic abuse of children in care will be upheld, including access to justice, effective remedies and reparation.   
The InterAction Group set up to steer the original InterAction process agreed to continue in order to monitor and review the progress of the Action Plan. Renamed the InterAction Plan Review Group, it includes representation from survivors, survivor support organisations, service providers, the Commission, the Scottish Government and CELCIS. 
The InterAction Plan Review Group met for the final time in March 2022, following which it wrote to the Deputy First Minister summarising progress made and providing concluding comments and received a response to that letter. 
InterAction Process
An InterAction involves everyone affected by an issue coming together to share views and find practical steps forward that promote human rights.  An InterAction process was established to develop an Action Plan on Justice and Remedies for survivors of historical child abuse. This process was developed and supported as a partnership between the Commission and CELCIS.
Legal and policy work
In 2017, we made a submission to the Justice Committee of the Scottish Parliament on the Limitation (Childhood Abuse) (Scotland) Bill. We supported the bill, which takes away one of the barriers that many survivors of historical childhood abuse faced when seeking civil justice.
In 2017, we also prepared a paper on effective remedies for survivors who experienced abuse prior to September 1964.
We previously made a submission to the Scottish Government's 2013 consultation on proposals relating to the Civil Law of Damages on issues in personal injury.
The Commission has also made submissions to the Scottish Government about introducing a National Confidential Forum on historical child abuse (NCF). Read our submission from 2012 to the original consultation, and our written evidence to the Scottish Parliament on the Bill to establish the NCF.
Help & Advice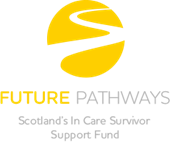 Future Pathways offers help and support to people who were abused or neglected as children while they were living in care in Scotland.