The ideal of free human beings enjoying freedom from fear and want can only be achieved if conditions are created whereby everyone may enjoy their economic, social and cultural rights, as well as their civil and political rights.

International Covenant on Economic, Social and Cultural Rights
Strengthening Economic, Social and Cultural Rights
The International Covenant on Economic, Social and Cultural Rights (ICESCR) was ratified by the UK in 1976. This includes protections for rights like the right to food, housing, healthcare and to participate in cultural life.
The Commission has worked for many years to secure stronger legal protection for economic, social and cultural rights, and to raise awareness of what these rights include. 
In 2015, we hosted a national conference entitled "Putting the Justice into Social Justice" with the First Minister of Scotland as a guest speaker. This conference shared international experiences of incorporating economic, social and cultural rights into law. 
In 2018, we organised a high-level seminar on "Incorporation and Justiciability of Economic, Social and Cultural Rights" with guest speaker, Virginia Bras Gomez, Chair of the United Nations Committee on Economic, Social and Cultural Rights.
We have also hosted a series of workshops on the right to health, social security and housing, and published research on models of incorporation for Scotland.
In September 2022, we held an information session on the legal framework the Commission believes is vital to fully embed economic, social and cultural rights in Scots Law, through the proposed new Human Rights Bill for Scotland. Click the link to read the Executive Summary which accompanied that session.
The Commission has committed to progressing understanding and strengthening legal protection of economic, social and cultural rights in its Strategic Plan 2020-2024. 
Minimum Core Obligations (MCOs)
MCOs are a key part of understanding Economic, Social and Cultural rights. Read an explainer by our Legal Policy Development Officer Luis Felipe Yanes. And read his quick guide on our blog page.
National Taskforce for Human Rights Leadership
The Commission was a member of a National Taskforce that put recommendations to the Scottish Government for a new human rights law in Scotland.
The Taskforce was established in December 2018, in response to recommendations by the First Minister's Advisory Group on Human Rights Leadership (FMAG). 
In March 2021 it published its final report,  the National Taskforce for Human Rights Leadership Report (also available in easy read format) setting out its recommendations and evidence base to the Scottish Government, for establishing a statutory framework for human rights that will bring internationally recognised human rights treaties into domestic law to protect and advance the realisation of human rights for everyone in Scotland.
While on the Taskforce, we also worked with the Human Rights Consortium Scotland to gather evidence from people and communities across Scotland about how a new human rights law should work: Read the All Our Rights In Law report
Report: Models of Incorporation
In November 2018, the Commission published a new report into models of incorporating international human rights standards into law, authored by Dr Katie Boyle, Associate Professor of Law at the University of Stirling. 
The report, Models of Incorporation and Justiciability for Economic, Social and Cultural Rights, highlights that people in Scotland have limited recourse to human rights laws when it comes to realising their economic, social and cultural rights. This accountability gap affects people's rights to an adequate standard of living, health, housing, food and social security, among others. 
Dr Boyle's report details how countries around the world, from Germany and Sweden to South Africa and Argentina, have stronger laws and stronger accountability processes for economic, social and cultural rights than exist in Scotland. Around 65 countries globally, including 12 in Europe, explicitly enshrine these rights in their constitutions, while others such as Finland also build in parliamentary scrutiny of whether they are being implemented.
The report demonstrates the opportunity for Scotland to learn from these systems, building on its existing laws and legal remedies as well as parliamentary processes to better protect a broader range of human rights.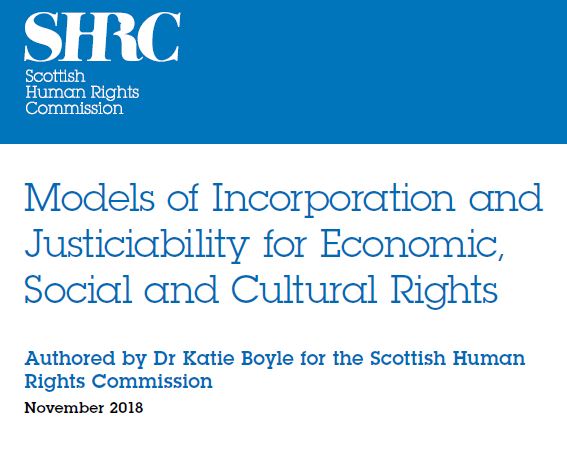 'What, Why and How' Workshop Series
Throughout 2017 and 2018, the Commission ran a series of workshops aimed at broadening understanding and support for economic and social rights in Scotland, such as the right to social security, right to food, right to the highest attainable standard of health and right to housing.  
The workshops were designed for a broad audience of rights holders, civil society organisations, public bodies and government who have an interest in the implementation of economic and social rights in Scotland.
In the context of Brexit and ongoing potential for changes to the Human Rights Act, it was timely for Scotland to consider how human rights protections can be guaranteed for people in Scotland. This is particularly true for economic, social and cultural rights. At the Commission, we have long advocated that the best way to do this is for international human rights standards to be protected by Scots law and policy ("incorporation"), so that Scottish courts to have the powers they need to address alleged breaches of these international human rights standards ("justiciability") 
Our workshop series, supported by briefing papers and reports, explored:
What is at stake for economic and social rights?
Why is it important to protect economic and social rights?
How protection for these rights should be strengthened for people in Scotland?
We were delighted that the Center for Economic and Social Rights (CESR) supported our workshops. Workshop participants learned from CESR's distinct, globally recognised methodology for monitoring economic and social rights to strengthen protection of rights.
The Commission convened a Steering Group of experts from civil society (charities) and public authorities to oversee the events and more broadly to consider the benefits and challenges of increased incorporation of international human rights standards, (including economic, social and cultural rights) into Scots law.
Workshop Schedule
The Right to Social Security – July 2017
The Right to Food – October 2017
The Right to Housing – Feb 2018
The Right to Health – March 2018

Incorporation & Justiciability of Economic and Social Rights in Scotland– May 

2018
Workshop Aims
Each of the thematic workshops aimed to provide participants with an increased understanding of:
the international human rights framework particularly standards around economic and social rights; and
how to apply this knowledge to measure Scotland's progress in implementing these rights so that they makes a real difference to the reality of people's day to day lives.
The final workshop on protecting these rights in law considered:
current accountability mechanisms that ensure that those with responsibilities to protect the Economic and Social Rights of every person in Scotland are fulfilling their duties; and
what models of "incorporation" or increased judicial or parliamentary oversight might further strengthen this protection.
---
Publications and Resources
---