The ideal of free human beings enjoying freedom from fear and want can only be achieved if conditions are created whereby everyone may enjoy their economic, social and cultural rights, as well as their civil and political rights.

International Covenant on Economic, Social and Cultural Rights
Strengthening Economic, Social and Cultural Rights
The International Covenant on Economic, Social and Cultural Rights (ICESCR) was ratified by the UK in 1976. This includes protections for rights like the right to food, housing, healthcare and to participate in cultural life.
The Commission has worked for many years to secure stronger legal protection for economic, social and cultural rights, and to raise awareness of what these rights include. 
In 2015, we hosted a national conference entitled "Putting the Justice into Social Justice" with the First Minister of Scotland as a guest speaker. This conference shared international experiences of incorporating economic, social and cultural rights into law. 
In 2018, we organised a high-level seminar on "Incorporation and Justiciability of Economic, Social and Cultural Rights" with guest speaker, Virginia Bras Gomez, Chair of the United Nations Committee on Economic, Social and Cultural Rights.
We have also hosted a series of workshops on the right to health, social security and housing, and published research on models of incorporation for Scotland.
The Commission has committed to progressing understanding and strengthening legal protection of economic, social and cultural rights in its Strategic Plan 2020-2024. 
National Taskforce for Human Rights Leadership
The Commission is a member of the National Taskforce that is putting together recommendations to the Scottish Government for a new human rights law in Scotland.
Along with the Human Rights Consortium Scotland, the Commission would like to hear from people and communities across Scotland about how a new human rights law should work.
Report: Models of Incorporation
In November 2018, the Commission published a new report into models of incorporating international human rights standards into law, authored by Dr Katie Boyle, Associate Professor of Law at the University of Stirling. 
The report, Models of Incorporation and Justiciability for Economic, Social and Cultural Rights, highlights that people in Scotland have limited recourse to human rights laws when it comes to realising their economic, social and cultural rights. This accountability gap affects people's rights to an adequate standard of living, health, housing, food and social security, among others. 
Dr Boyle's report details how countries around the world, from Germany and Sweden to South Africa and Argentina, have stronger laws and stronger accountability processes for economic, social and cultural rights than exist in Scotland. Around 65 countries globally, including 12 in Europe, explicitly enshrine these rights in their constitutions, while others such as Finland also build in parliamentary scrutiny of whether they are being implemented.
The report demonstrates the opportunity for Scotland to learn from these systems, building on its existing laws and legal remedies as well as parliamentary processes to better protect a broader range of human rights.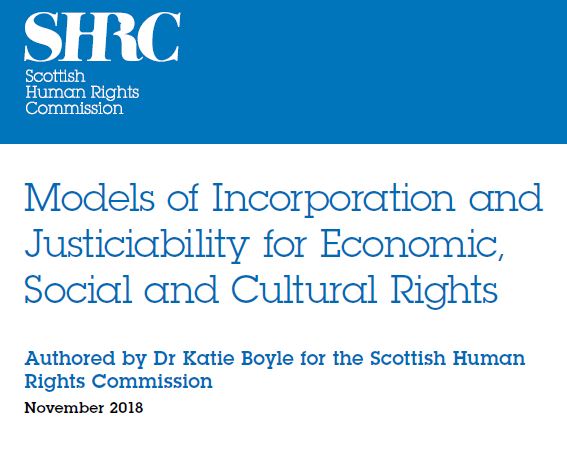 Publications and Resources
---