All human rights are universal, indivisible, interdependent and interrelated. 

Vienna Declaration and Programme of Action
What is Incorporation?
Incorporation is a legal process which brings UN rights treaties directly into Scotland's own laws and this means courts in Scotland could enforce them.
The Scottish Government has proposed a new human rights law which would put more rights protections in Scots law.
Human Rights Bill for Scotland
We have been calling for stronger protections for human rights in Scotland for more than a decade.
In September 2022, we held an information session on the legal framework the Commission believes is vital to fully embed economic, social and cultural rights in Scots Law, through the proposed new Human Rights Bill for Scotland. Read the Executive Summary and full report Building A New Human Rights Framework for Scotland.
The Scottish Government launched a consultation on a new Human Rights Bill for Scotland in 2023. In October 2023, we set out our position on the proposed Human Rights Bill in a series of three reports called the 'Incorporation Series' including a statement. 
The Scottish Government's proposed Bill will incorporate four international human rights treaties directly into Scots law: those covering economic, social and cultural rights, disabled people's rights, rights of black and ethnic minority people, and women's rights. It includes a right to a healthy environment, and an equality clause to ensure equal access to the rights contained within the Bill. It will also include specific rights for older people and LGBT+ people.
The Bill is due to be laid before the Scottish Parliament for MSPs to consider in 2023-24. Read more on the Human Rights Bill on our News page. 
Our Incorporation Series 
In October 2023, we published a series of papers on Incorporation. 
All Our Rights in Law 
The Commission worked with the Human Rights Consortium Scotland to gather views from people and communities across Scotland about how a new human rights law should work. 
That evidence was shared with the National Taskforce on Human Rights Leadership and published in a separate report.
Report: Models of Incorporation
In November 2018, the Commission published a new report into models of incorporating international human rights standards into law, authored by Dr Katie Boyle, Associate Professor of Law at the University of Stirling. 
The report, Models of Incorporation and Justiciability for Economic, Social and Cultural Rights, highlights that people in Scotland have limited recourse to human rights laws when it comes to realising their economic, social and cultural rights. This accountability gap affects people's rights to an adequate standard of living, health, housing, food and social security, among others. 
Dr Boyle's report details how countries around the world, from Germany and Sweden to South Africa and Argentina, have stronger laws and stronger accountability processes for economic, social and cultural rights than exist in Scotland. Around 65 countries globally, including 12 in Europe, explicitly enshrine these rights in their constitutions, while others such as Finland also build in parliamentary scrutiny of whether they are being implemented.
The report demonstrates the opportunity for Scotland to learn from these systems, building on its existing laws and legal remedies as well as parliamentary processes to better protect a broader range of human rights.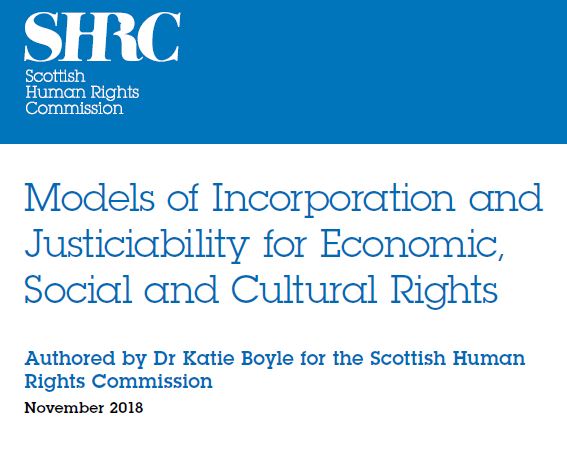 Strengthening Human Rights Law