Universal Periodic Review
Every four to five years, Member States of the United Nations assess each other's progress on human rights through the Human Rights Council. The Council then makes a series of recommendations to the government of the country being assessed. This is called the Universal Periodic Review (UPR).
The UPR is a way of holding countries to account for their compliance with international human rights laws and standards. Established in 2008, every one of the 193 UN Member States is reviewed once every four to five years.
The UPR means that Scotland and the UK's performance on human rights is examined against the requirements of international human rights treaties and commitments. The UK was one of the first States to be reviewed in 2008. It was reviewed again in 2012, and the third Universal Periodic Review took place on 4th May 2017.
The troika of states overseeing the UPR for the UK have now published the final report of the Working Group. The UK will respond to this at the next session of the Human Rights Council in September.
If you would like more information, you can watch the recording of the whole review (3 hours), or read a Storify of our live tweets of the review.
The Commission's role in the UPR
As Scotland's national human rights institution the Scottish Human Rights Commission has a distinct role in the review process. We contribute evidence, support civil society organisations to take part in the process, and have speaking rights at the Human Rights Council.
Read our submission to the 2017 review in full or as an Executive Summary.
Read a joint statement by our Chair and the Chairs of the Equality and Human Rights Commission, and Northern Ireland Human Rights Commission, in advance of the review.
You can also read the previous recommendations ("Concluding Observations") resulting from the UK's previous UPR in 2012.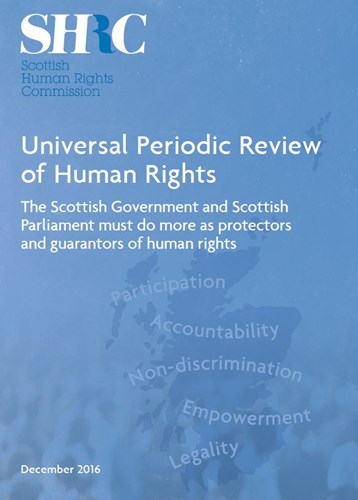 UPR 2017 - Briefing Papers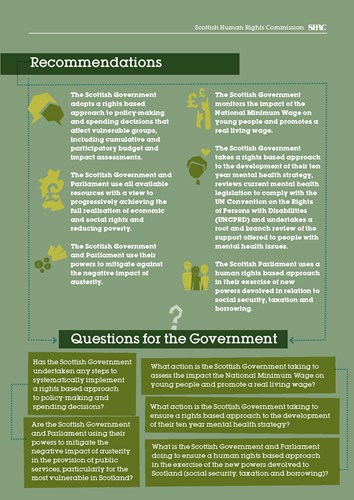 ---