Protecting human rights for everyone in Scotland
The Scottish Human Rights Commission works on legal, policy and practical issues that affect people's human rights in Scotland.
About the Commission
The Scottish Human Rights Commission promotes and protects human rights for everyone in Scotland.  We are an independent public body, accredited as an A-status National Human Rights Institution within the United Nations human rights system. Find out more about our work.
Informing our work from 2020-2024
We are developing our Strategic Plan for 2020 - 2024. To help us set our priorities and improve how we work, we would like to hear from people and organisations across Scotland. 
Our consultation document describes our work and sets out four draft priorities for the next four years. It also includes some questions that we would welcome your views on. You can also read a summary of the consultation document.
You can respond to the consultation in the following ways:
By email: hello@scottishhumanrights.com
By post: Bridgeside House, 99 McDonald Road, Edinburgh EH7 4NS
By online survey: https://www.surveymonkey.com/r/9BRJZWT  
We have produced a BSL video of our consultation document. This is subtitled and BSL users can contact us by using contactSCOTLAND-BSL.
We have also produced an Easy Read version of the consultation document. 
Please let us know if you need the consultation document in a different format.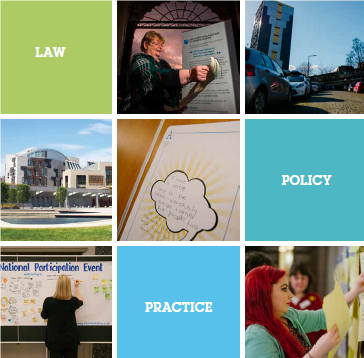 ---
Ten Years of the Commission
On 10 December 2018, the Commission turned ten years old. 
To mark our anniversary, we commissioned a series of short digital films to capture and share a range of people's perspectives on different human rights issues in Scotland - including rights to justice, housing, health, privacy and an adequate standard of living, as well as rights in community development, prisons and around the world.
The #AllOurRights10 films are all available to watch on a YouTube playlist, including BSL and audio-described versions. Or watch our short highlights film on this page.
Scotland's National Action Plan for Human Rights
The Commission supports and coordinates Scotland's National Action Plan for Human Rights (SNAP).
SNAP brings together civil society, Scottish Government and public bodies into a collaborative programme of action to build a stronger human rights culture in Scotland.
Launched in December 2013, SNAP was founded on an extensive evidence base, developed through a collaborative process and is being independently monitored.
For more information, visit the SNAP website.